Pizza!
Thursday, July 07, 2011
For Lunch:
Kinpera soup with radishes,carrots,daikon, white miso and red miso.

Brown rice with toasted sesame seeds.

Sweet veggie lentils with onions and seitan. ( no oil)

Blanched garden Chinese nappa cabbage, and turnips!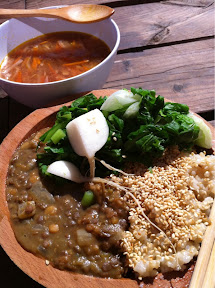 For dinner:
PiZza!!
With carrot sauce and olives, and bell peppers, mushrooms, I'm not exactly sire how they made it. But it was so yummy! I know it was a yeasted dough.
For lunch:
Brown rice.
Polenta Cooked then baked with turnip greens for fifteen min.
Nituke with radishes and daikon and the greens of the root veggies, abd sesame seeds.
Miso soup.
For dinner:
Brown sweet rice with chestnuts.
Sautéed daikon (root and leaf)
Homemade tahini!
Umeboshi plum.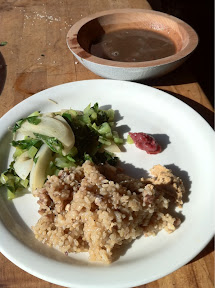 - Posted using BlogPress from my iPhone